Practical saws for on the go
If you are out and about, you do not just need appropriate clothes –on longer trips in particular, a saw is always a good companion. It is not only on survival exercises that the saw is an essential tool. A classic hand saw is simply too long for the bagpack. In the following we recommend the optimum saw for whatever your activity.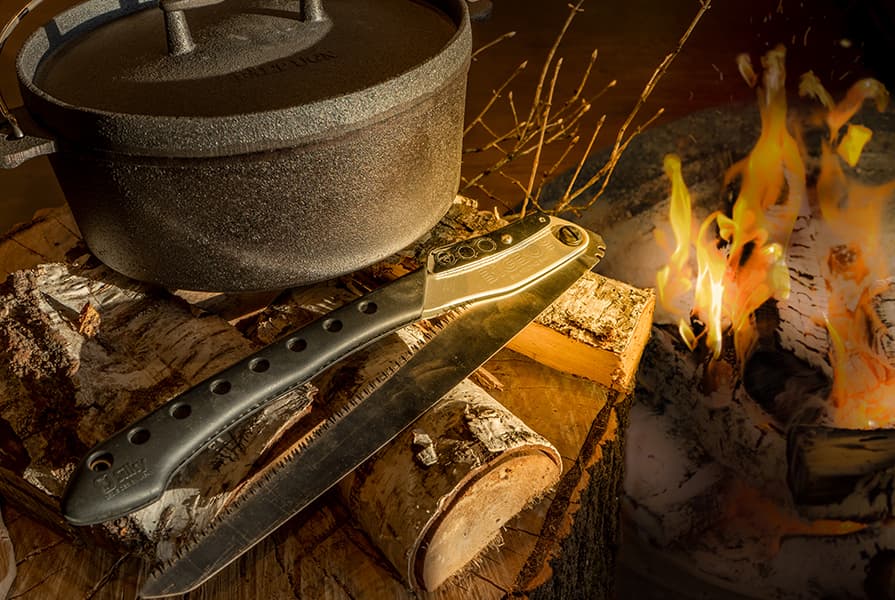 Which saw do I take hiking?
The basic premise when hiking is simply that you should not lay a hand on the flora or fauna in either a national forest or a private forest. Carving a walking stick from a broken branch, or building something with the children without tearing down fresh wood for it, however, is no problem. A large folding saw or even a hand saw would clearly be oversized for this purpose. For hiking, a multi-function pocket knife with a short saw blade is recommended, such as a Victorinox Folding Knife, Huntsman Wood or a SWIZA Pocket Knife Tick Tool. Additional benefit: You always have a knife, corkscrew or even a can opener with you.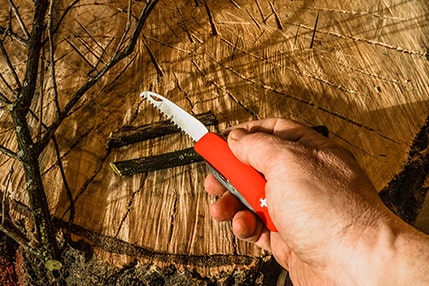 The classic folding knife with additional functions – in this case, a saw – is sufficient for hiking with children.
With it you are well equipped for a one-day excursion and you do not even need space for it in your backpack. There are also special folding knives for hunting purposes (e.g. Maserin Folding Hunting Knife) which include a small saw.
Which saw do I need for trekking?
If you venture further into nature and plan treks lasting several days, it will no longer be just a matter of carving a small walking stick for the kids. You will probably cut wood in the evening for the campfire, for cooking and cosy get-togethers. If the weather changes, a small weather shelter may need to be built. You should not discard the multi-function pocket knife when trekking – however, the above tasks cannot be performed with such a small saw.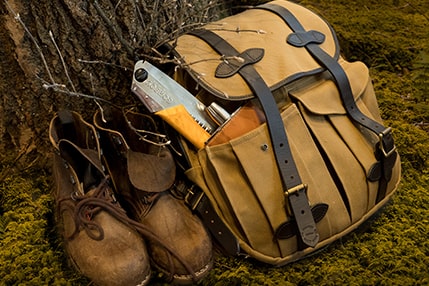 A classic outdoor application for folding saws is the trekking tour
Folding saws are the tools of choice here. We recommend a blade length of 13 to 21 centimetres – this keeps the saws manageable enough, but also suitable for working ergonomically. As a rule of thumb: the saw blade should be at least twice the length of the diameter of the wood – otherwise sawing simply takes too long. The Silky Gomboy Folding Saw or our DICTUM Folding Saw Deluxe would be the perfect companions for a trekking tour. These saws weigh not more than between 372 g and 202 g and thus are still compact folding saw models.
Which saw do I need for survival training?
A saw used in survival training must above all be lightweight. At the same time, it must be able to cope with thick logs in case of need. Classic folding saws, however, are too heavy. With a weight of just 132 g for the 150 cm long hand chain saw these tools are the perfect companions for survival training far away from any civilisation.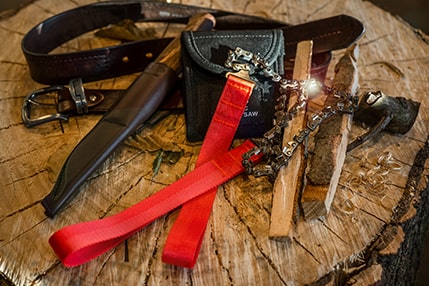 The hand chain saw is the most powerful lightweight.
Which saw do I need for camping?
Camping is a more peaceful activity. When planning a camping trip, the length of a folding saw does not play such a big role in transport – and the weight is also insignificant if, for example, you have a camper van. It is advisable to opt for a longer folding saw, as experience shows that you will be sitting around the campfire longer in the evening and will therefore also want to cut thicker branches. If you intend to work creatively with wood, you can also pack a folding saw with finer or replaceable saw blades – e.g. the Silky® Gomboy Folding Saw 270.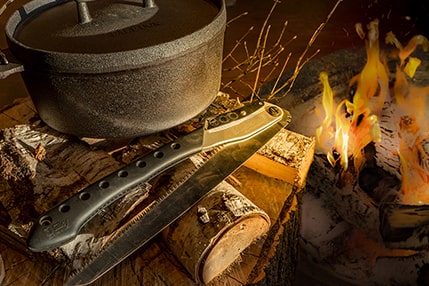 If you spend the evening hours sitting around campfire, you will need more wood and thus a longer saw.
Garden saws
There are also folding saws specially designed for gardening. While the requirements for an outdoor folding saw are primarily weight and size, other requirements play a role in the garden. Saws for overhead pruning are, for example, equipped with a curved saw blade. When pruning fruit trees, on the other hand, cuts need to be smooth and clean.
When sawing firewood, a smooth cut surface is not important, nor does a curved saw blade help. You just need wood.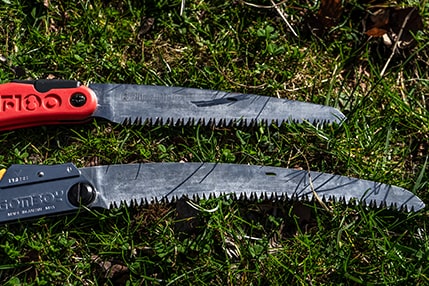 Over-engineered for outdoor use – folding saws for gardening.
Tips on working with folding saws
For outdoor use in particular, coloured saw handles are very practical, as they are much easier to find in dark woods or tall grass!
So that you do not drop the saw in the first place, secure your saw with a hand strap!
If your backpack is already full, belt holsters may be helpful.
Very important: Fold up your saw immediately when you are not using it. This way, you not only protect the saw blade, you protect yourself from injury!
When out and about, it is enough to clean the roughest dirt from your saw in the grass. At home you should then clean your outdoor saw with resin solvent and then oil it.